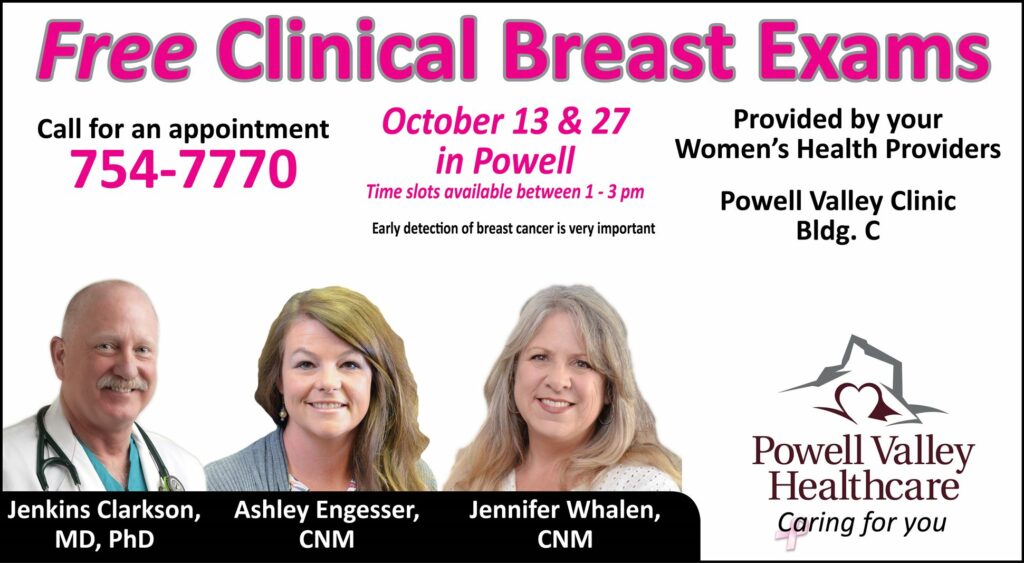 The women's health providers at Powell Valley Clinic are offering free clinical breast exams in October in recognition of breast cancer awareness month. The free exams are available to anyone who would like to get checked out and have questions answered. Dr. Jenkins Clarkson, OB/GYN, Ashley Engesser, certified nurse midwife, and Jennifer Whalen, certified nurse midwife, have all freed up their schedules between 1:00 p.m. and 3:00 p.m. on October 13 and 27. "This is something that women over 40 and who are not established with a primary care provider or women who have a history of breast cancer in their family need to take advantage of," said Amber Mangus. Amber is the patient care navigator with Dr. Collins' oncology & hematology clinic. "Dr. Collins has provided this service in the past and has helped women who didn't otherwise have access to getting checked by a medical provider," said Mangus. Dr. Collins is currently out of the clinic on maternity leave.
According to the Centers for Disease Control, breast cancer can produce different symptoms in different people. In some cases, a person may not have any signs or symptoms at all.
Some warning signs of breast cancer are—
New lump in the breast or underarm (armpit).
Thickening or swelling of part of the breast.
Irritation or dimpling of breast skin.
Redness or flaky skin in the nipple area or the breast.
Pulling in of the nipple or pain in the nipple area.
Nipple discharge other than breast milk, including blood.
Any change in the size or the shape of the breast.
Pain in any area of the breast.
For more information, visit www.cdc.gov/cancer/breast. It's important to have regular clinical breast exams and an annual screening mammogram. Financial assistance is available for mammograms. For the free clinical breast exams provided by the women's health providers, there is no cost for the exam. You simply call the clinic to schedule an appointment at 754-7770.