Through the years we have helped generation after generation reach better health. Our organization has been striving to serve the needs of our region since we were established. Here at Powell Valley Healthcare, we are loyal to our community and will continue to strive for excellence in healthcare.
A look back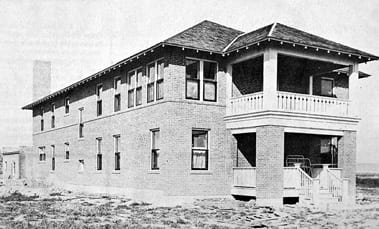 The first hospital in Powell was constructed by Dr. J.R.A. Whitlock at Avenue C and Edmonds Street. It was completed in 1919 and had 18 beds. Dr. Whitlock owned and operated the hospital as a private institution for nearly 20 years. After his death in 1936, the hospital was purchased by Dr. Robert Siddle. His death in the early 1940s prompted three Powell businessmen to purchase the hospital in order to maintain a medical facility in the community. The purchase price at that time was $17,000.
A community association was formed to take over the hospital operations. A board of directors was appointed, and a fund drive was initiated to allow for renovation of the hospital building. The facility was renamed War Memorial Hospital to honor World War II veterans. In 1946, a lease agreement was initiated with Lutheran Hospitals and Homes Society (LHHS) of Fargo, North Dakota. This lease agreement continued until 1992.
The hospital became a tax-supported facility with the establishment of Powell Hospital District in September 1949. The decision was made to construct a new facility, and in 1952, the new War Memorial Hospital, located at 630 Avenue H (now the location of The Heartland Assisted Living) was dedicated. The old Whitlock Hospital was then converted to a rest home for older adults. In 1964, a nursing home addition was built onto the new hospital, and the name was changed to Powell Hospital and Nursing Home.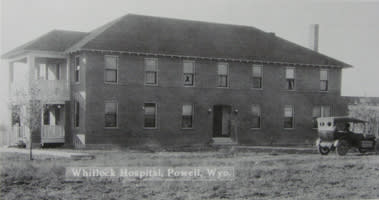 In 1962, the hospital district initiated ambulance service to the community. The forerunner of the auxiliary was formed in 1957 and was called the Gray Ladies. The present volunteer services organization (PVHC Volunteer Services), was established in 1983. The volunteers began offering LifeLine services within the community. They currently provide this service to over 100 community members.
In 1983, the decision was made to build a new hospital. A bond issue of $8.5 million was passed by the voters, and the new facility was dedicated in April 1986. The old hospital was then renovated to provide additional nursing home capacity. In the 1980s, four medical office buildings were constructed south of the hospital building. A new nursing home facility (located at 999 Avenue G) was constructed and dedicated in February 1997.
In late 2000, a new assisted-living facility (The Heartland) was completed and occupied. In November 2008, eight medical staff members and their support staff moved into the newly constructed Powell Valley Clinic building. The building is right next to Powell Valley Hospital. The facilities now include a 25-bed hospital, a 100-bed long-term care facility, 4 medical office buildings, a 24-unit assisted living facility and 5 emergency medical vehicles with equipment.
In 1992, the Hospital District formed a not-for-profit corporation called Powell Valley Health Care, inc. for the purpose of operating the district's facilities. Also in 1992, PVHC entered into a management contract with Brim Healthcare, a system of 40-plus hospitals located throughout the United States. Brim later changed its name to HealthTech. The company provides management and group purchasing services. In 2017, PVHC ceased its management contract with HealthTech. Powell Hospital District is governed by seven elected members of the board of trustees. All tax monies received by the district are dedicated to capital expenditures, including equipment, and are not utilized for operating expenses. The seven district board members, as well as three additional members (typically medical staff), serve as the PVHC board of directors. In January, 2020, PVHC became an affiliate of Billings Clinic. Two Billings Clinic staff members, Brian Jones and Dr. John Pender, joined the PVHC Board, bringing the number of board members to 12.
Being part of the community has been an important goal throughout the years, and with your help and loyalty, we can continue to provide quality health services that you can depend on.